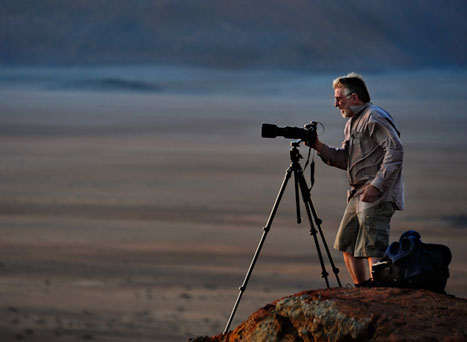 "Photographers always dream of places, their minds and eyes are always
wandering. Flying gives you freedom, it enables you to follow…"
Timing is key. Miles above the earth, travelling at 120 miles per hour, art
can only be produced on intuition, an intuition that is formed and fine-tuned only through years of experience. Years spent filming a pride of lions in Namibia's Etosha National Game Reserve. Years spent documenting the political transformation that preceded Namibian independence. Years of breathing, seeing, living though the lens…
| | |
| --- | --- |
| 1955 | Paul was born. |
| 1962 | Took his first photograph and instantly lost his soul to the mystery of photography. |
| 1964 | Boarded a private plane for the first time and lost his heart to the freedom of flight. |
| 2002 | First solo flight. |
| Since then | 1 000 hours+ in the air chasing, searching and always moving to spaces of beauty from where he can share his art, his every photograph to him an epiphany, an interpretation of his "god's eye" view on the world. And it is beautiful. |
These dates document the birth and rebirth of Paul as a photographic artist. He has won more than 50 awards, both locally and internationally, for his work as photographer, cinematographer, director and writer.
Photographs continuously published in various local and international publications that include National Geographic, Geo, Stern and Go magazine.
3 Nights in Amsterdam, a photography travel journal, 2004.
Various awards and achievements as cinematographer for documentaries, commercials and art films broadcasted on more than 40 local and international television channels that include National Geographic, Animal Planet and Discovery Channel.
First solo photography exhibition in 1987
One of only nine African artists selected to exhibit at the Olympic Artiade art exhibition in Greece, 2004
International exhibitions: Shanghai and Cape Town 2010
A permanent exhibition at the Playhouse Gallery in Windhoek, Namibia
Esteemed clients of Paul's work include amongst others the State House of Namibia and the Hilton Hotel, the Namibia Tourist Board, private collectors and many others.